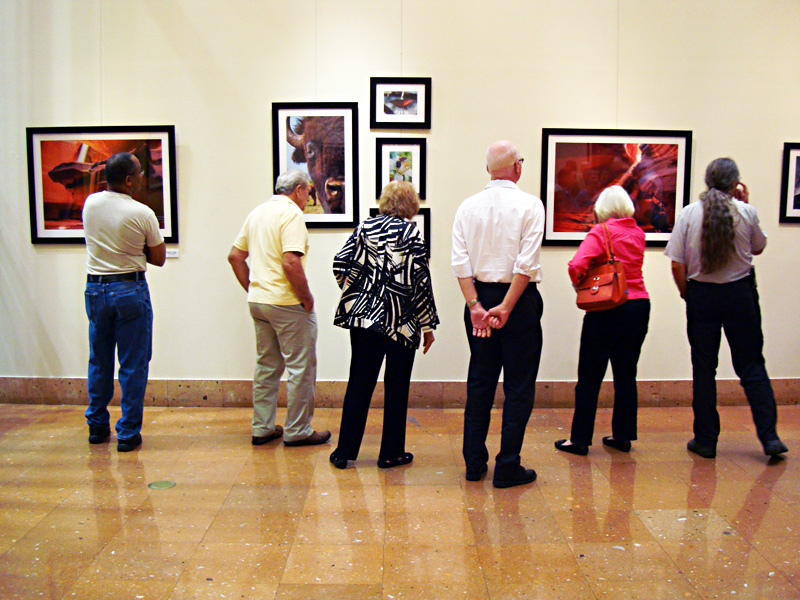 Photo courtesy of FotoSeptiembre USA
So, we've gone from fireworks season to pumpkin season between posts. At least it is still baseball season (for the Red Sox, at least).
THE BIG NEWS: The opening reception for Point the Compass was August 28, and it was a rousing success. We drew between 175-200 people for the opening reception, and I sold several of the pieces in the show and some loose prints I brought with me.
The commentary was generally very positive, including random e-mails I received from people who visited the gallery and appreciated it.
I was having a bad day until I stumbled into your exhibit at Central Library. I have always dreamed of seeing the slot caves. Excellent work!

- one of the e-mails I received
There were some odds and ends and issues while putting it all together – I'll detail those in another post – but in general it was a very positive experience. I'm not sure when I'll try and do another show – it's an expensive habit, and I've got lots of trips I want to take and camera gear I want to add to the toolbox – but it was definitely worth doing.
THE NEXT NEWS: Six weeks from today, we'll be in Italy! Venice, Rome and the Amalfi Coast will be holding our attention for two weeks, and I can't wait. Looking into photographing Venice, and I found this site, which is loaded with information. Great work.
IN OTHER NEWS: Currently catching up on Grimm, which I quite enjoy – it takes the fairy tale monsters and runs them through a dark strainer (Nazis – I hate these guys!) and keeps the cutesy to a minimum. Also watching the HELLYEAHAGENTSOFSHIELD…sorry, was I drooling? And Marvel's holding my wallet? How'd that…oh, never mind, just take my money.
Stephen King's new book, Doctor Sleep, is quite excellent. I read it far too quickly the first time – now I need to go back and savor it. The Shining was one of the books I grew up with, and to see Danny Torrance back is a treat.
So – another entry before the end of October? Why not?